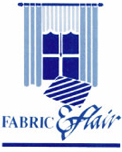 Blinds
Blinds can be as individual and distinctive as you are yourself! At Fabric and Flair blinds take on a complete new meaning, with a collection containing creative and intricate designs in woven wood and bamboo sourced from around the world, as well as more traditional roller, vertical, Venetian and woodslat blinds in different colours, finishes and sizes.
The woven wood and bamboo fabrics chosen by Jill for this range have been carefully selected to ensure that the natural features of the raw materials, such as their grain and colour balance, are maintained.
Each blind has its own unique character and style, each is edged with woven tape with a choice of eleven natural colours to complement or contrast with your room or the blinds themselves. Blinds can be roll-up, hidden behind a valance when fully retracted, or Roman, hanging flat when lowered, and stacking in even folds.
Picture in your mind the beauty of sunlight as it filters gently through these beautiful blinds, creating a calm and soothing atmosphere that can be subtly changed with the length of the day, then pick up your phone, and give Jill a ring.