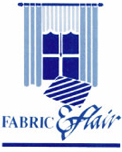 Commercial
"Jill supplied the curtains for our hotel at very short notice, an excellent job at the right price"
Own a pub, a hotel, a shop or offices? If so you'll know the difference that the right curtains and blinds can make to the ambiance and feeling of a room.You'll want curtains and blinds that are attractive, functional and easy to keep clean, and fire resistant too, to meet all government regulations, and Fabric and Flair are exactly the right company to supply them.
Small enough to be able to guarantee a personal service, yet with years of experience and with an in-house team making-up and fitting, Fabric and Flair will be able to find exactly the right blend of attractive colours, distinctive designs and practical accessories to make sure that your design needs are met, precisely as intended, and within your budget.
If you're a 'commercial' buyer you'll want a one stop shop giving a first class product which looks a million dollars, but doesn't cost the earth, a guaranteed delivery and fitting, and a reliable replacement service when things go wrong, so ring Jill at Fabric and Flair, you'll never regret it.