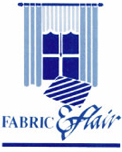 Schools
"Since Jill's curtains and blinds have added lots of colour to our classroom, making it feel really homely"
Schools like curtains and blinds too! And it's not just in the staff room and head teachers study. Classrooms look and feel so much more homely and welcoming when they have attractive curtains or blinds, and Fabric and Flair are the right people to ask to supply them.
They'll come up with a choice of hard wearing and low maintenance fabrics and finishes to choose from, all meeting government regulations for fire resistance. And have a look at our range of blinds! You'll honestly be amazed at what's available nowadays.
Just recently Jill kitted out a local school with a mix of beautiful blinds and creative curtains, with stripes on the blinds and circles on the curtains, giving a wonderful and exciting mix of colours and effects.
Give Jill at Fabric and Flair a ring to discuss what can be done within your budget, and join a list of schools whose quality of life has been improved immeasurably by fitting curtains or blinds.