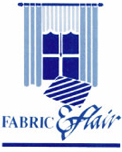 Fabrics & Accessories
If it's fabrics or accessories you're after then Fabric and Flair should be your first port of call.
The company offers customers a huge range of exciting and colourful fabrics to choose their curtains from, and that choice can be yours too, even if you just want to buy the material. And the same goes for the huge variety of poles and fittings that are available.
Sometimes just looking at pictures of patterns or the design of fitments isn't enough, and you want to feel the quality of the fabrics and the weight of the fitments, and you can!
Just contact Jill at Fabric and Flair and arrange to visit the workshop, you'll be made very welcome and have a great time looking through the wonderful choice of pattern books and samples.